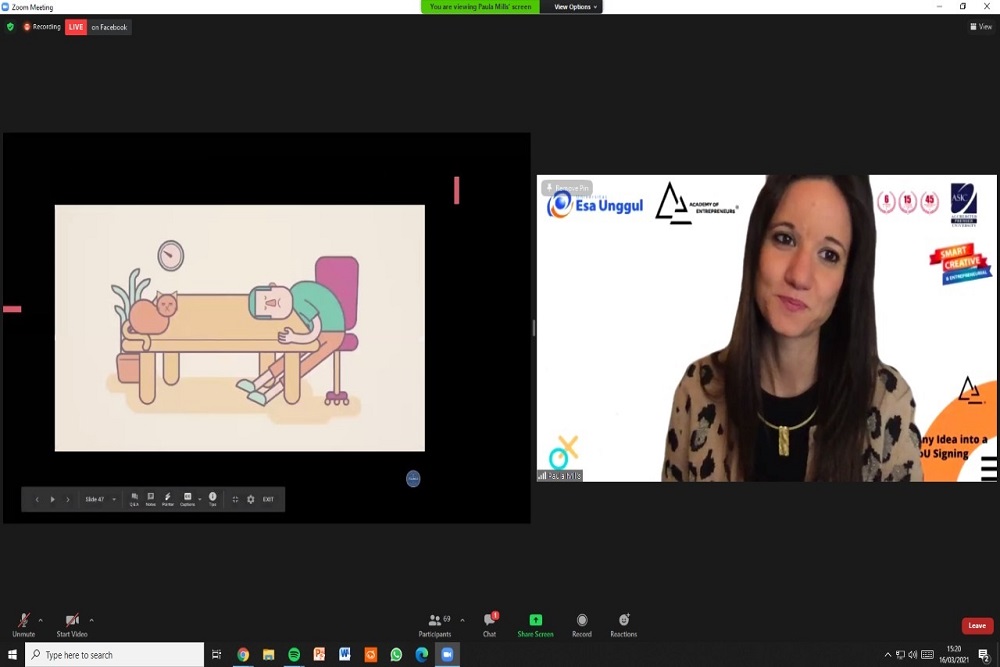 The MoU was signed by both institutions on March 16, 2021 (14.30 – 16.00 Jakarta Time). Through a ceremony conducted on Zoom, due to restrictions on international travel brought about by the COVID-19 pandemic. The MoU was signed by the Rector of Universitas Esa Unggul, Dr. Ir. Arief Kusuma Among Praja and Paula Mills the CEO of (AE).
The signing was followed by a webinar on "How to turn any Idea into a Business". The webinar was participated by students from both UEU and AE. Citing from Paula Wills presentation, she mentioned that we live in a world where the future is uncertain, and it belongs to creators and innovators, where we need to cease thinking how to get a job but rather #bossyourfuture.
The collaboration is alligned with UEU's vision and mission in creating "Smart, Creative and Entrepreneurial" graduates. Entrepreneurial endeavours have had a large-scale impact on economic conditions, business environment and job generation in various countries. In fact, they make a significant contribution to the country's GDP and are often referred to as a national asset. Gone are the days when starting a business of your own was considered risky. Today, entrepreneurial instincts are encouraged and held in high regard. However, achieving this feat is not easy, especially since it is difficult to find the right marketplace for the right idea, and that is why entrepreneur skill is highly needed. With modernisation and the constantly changing pace of life, entrepreneurial ventures with promising potential are now sponsored by government organisations and even by other established entrepreneurs or venture funding companies.
The MoU will lead both institutions to hold activities including hackathon. The aim of this collaboration to help young entrepreneurs to build their virtual ideas into a strong business model. Many of us know it as a start-up company.