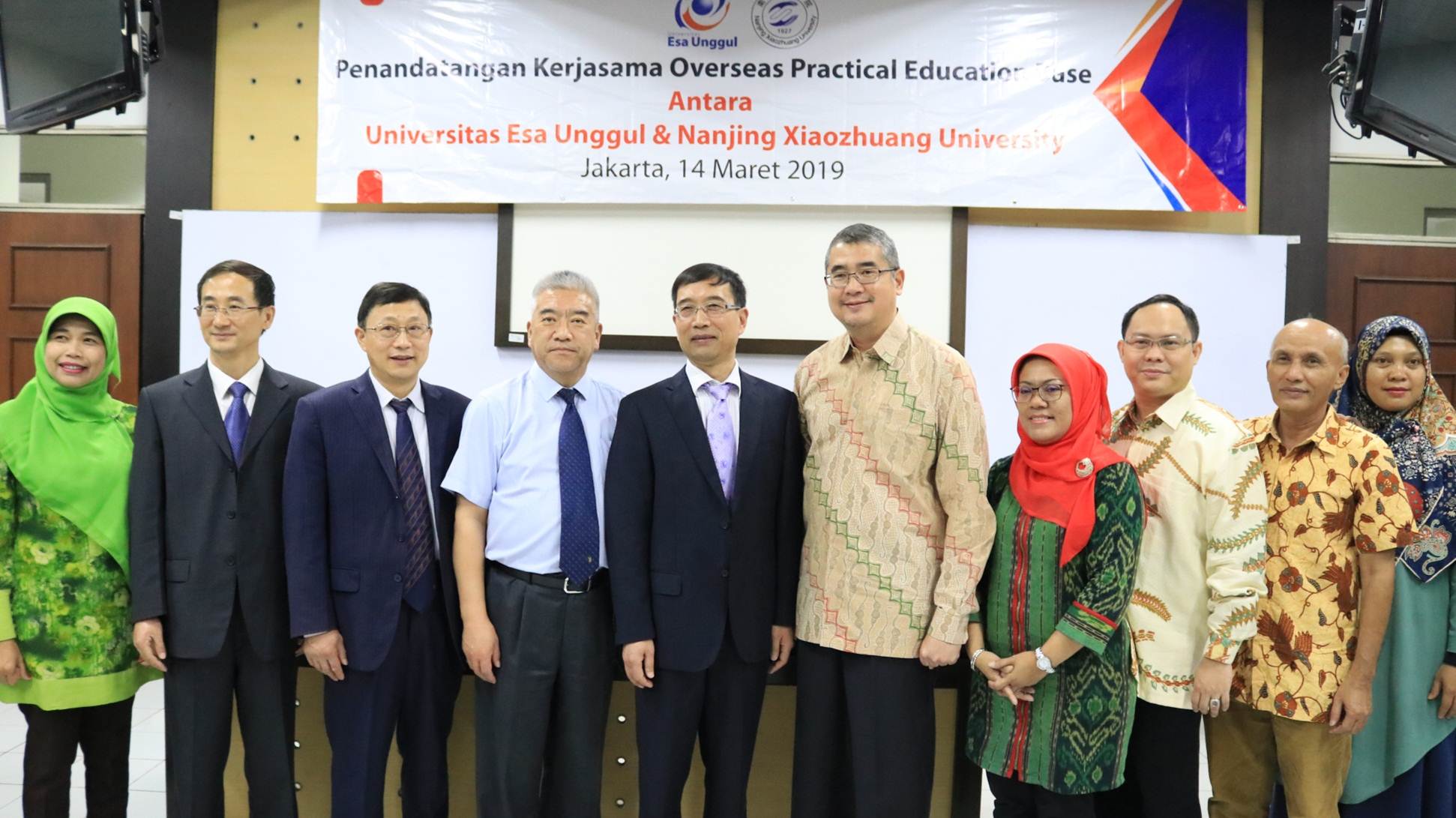 Esa Unggul University held the signing of the Overseas Practical Education Base Cooperation with Nanjing XiaoZhuang University (NXU), in Jakarta (14/3). This serves as the key to increase Indonesia's competitiveness in the face of the 4.0 industrial revolution. This is to prepare human resources who are able to compete globally through quality education.
Thus, in order to prepare human resources that are able to compete globally, collaboration between two qualified university is needed. "This collaboration is in accordance with the vision and mission of Esa Unggul University to become a World Class University. So that Esa Unggul University is committed to build international standard education and cooperate with universities from various developed countries, one of them is in China, "said the Rector of Esa Unggul University, Arief Kusuma, at Esa Unggul University, Jakarta (03/14/2019).
Arief said, this collaboration is expected to give birth to graduates of Esa Unggul University International Program who are able to compete globally amidst the current free market. "It is undeniable that China currently controls the world market, both in terms of economy and technology. By cooperating with China, we hoped that we can take lessons from China's progress, "he said.
In line with Arief, NXU's Vice President, Zhang Bo, said that he welcomed the collaboration with Esa Unggul University, considering that Esa Unggul University has excellent credibility and quality in Indonesia. "We chose to work together and even set up our representative office at Esa Unggul University, because we strongly believe in the quality and credibility of this University," he said.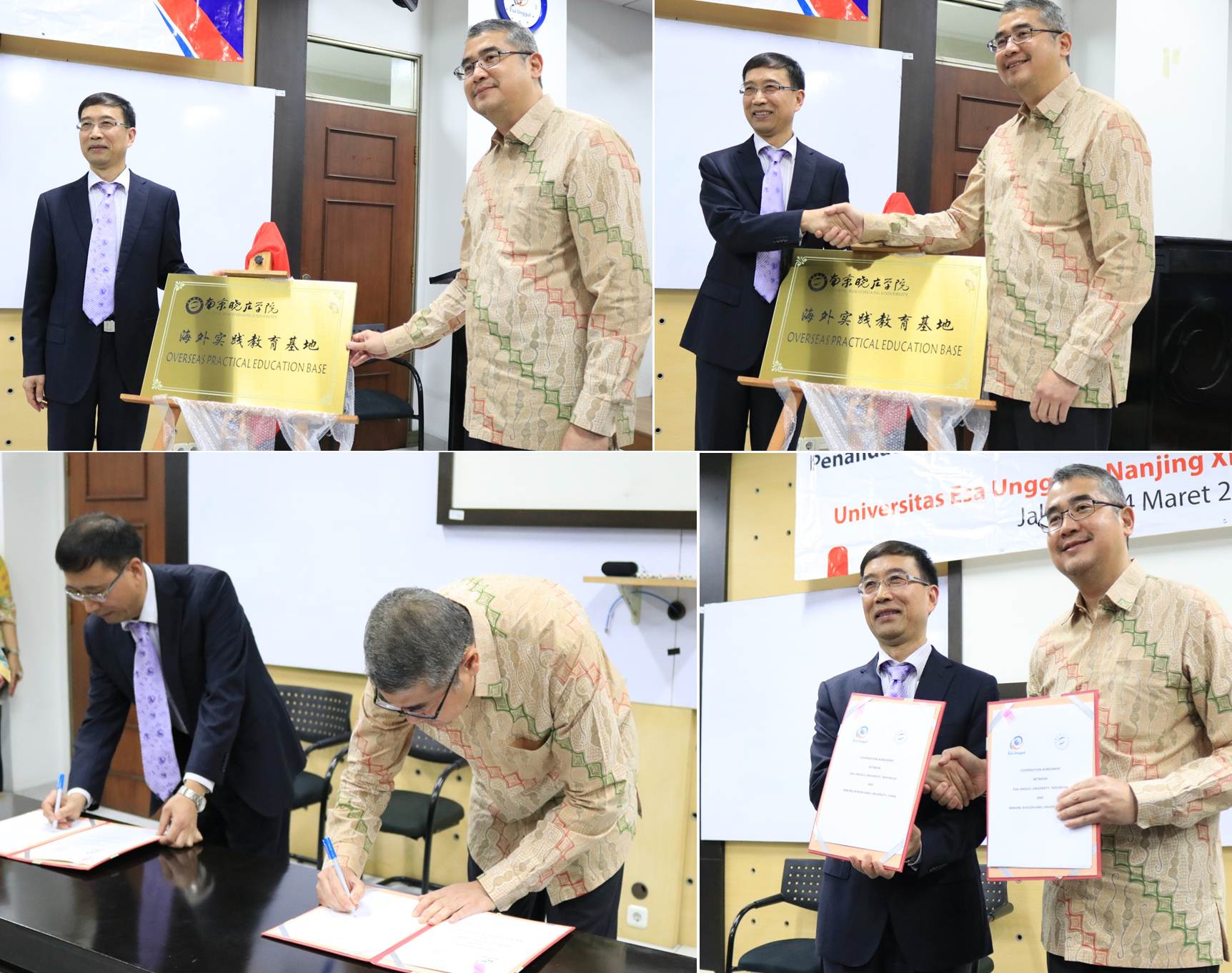 According to Zhang Bo, this educational cooperation program for Esa Unggul International students is not only between two educational institutions, but also between two countries that are learning from each other. "We learn a lot from Indonesia about how to reform the bureaucracy and Indonesia also learns about technology, both of which can complement each other," he said.
Meanwhile, Director of Esa Unggul International Program Fransiskus Adikara said, currently, Esa Unggul International Program has collaborated with three leading universities in China; Jiangsu Second Normal University (JSNU) majoring in Communication and Visual Design, Nanjing XiaoZhuang University (NXU) majoring in Informatics Engineering, and North China Electric Power University (NCEPU) majoring in Industrial Engineering. In fact, one of the partner universities, Nanjing XiaoZhuang University (NXU) has opened a representative office in Esa Unggul campus.
Frans said, the International Program of Esa Unggul University has prepared 3 programs; the Joint Degree where students can take 2 years at Esa Unggul University and 2 years in China. There is also Double Degree, in this program students get a bachelor's degree from both Esa Unggul University and Esa Unggul Partner University in China.
"While in International Class, students can take classes at Esa Unggul, but lectures were based on International Class. Students in International Class have the opportunity to experience international atmosphere by participating in student exchanges, overseas internships, and camp activities held by university partners abroad. The point is to study in the country but "feel" abroad, "Frans said.
In addition, for those three programs, international program students will be given additional language course such as the 4 semester Mandarin Language class and the English Club. So that when they graduated, students are expected to master 3 languages and be able to compete abroad. Aside from China, the International Campus of Esa Unggul University also collaborates with Japan, Korea and other ASEAN countries.