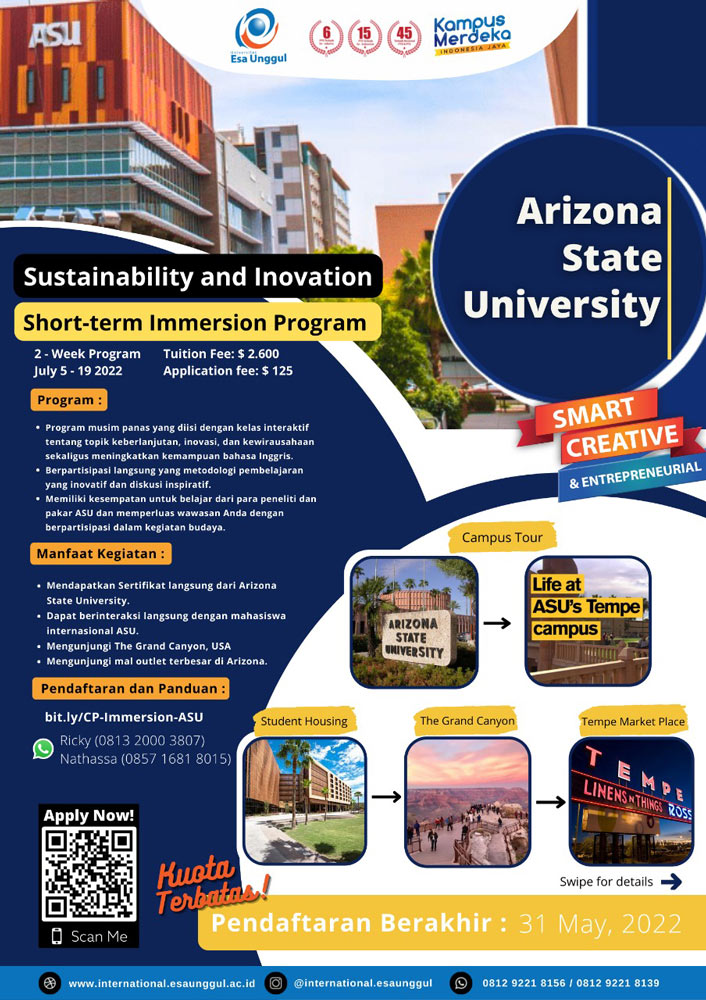 Arizona State University, the most innovative university in the U.S., has planned a summer program filled with interactive classes on the topics of sustainability, innovation and entrepreneurship while improving your English skills.
During the program, you will participate in hands-on lessons, inspirational discussions and experience innovative learning methodologies. In addition, you will have the opportunity to learn from ASU researchers and experts, expand your horizon by participating in cultural activities and improve your presentation skills in English.
The program is administered by ASU Global Launch, a leader in English language education and academic skills development for university-bound international students. When you complete the program, you will earn a certificate from Arizona State University.
Registration Date :
June 5, 2022
About the Program :
Taking place on the ASU Tempe Campus, located in the Phoenix, Arizona metropolitan area, you will have the option to participate in a two-week program between July 5-19, 2022. The courses will be taught in English and focus on developing your leadership skills and learning about the UN's Sustainable Development Goals.
These goals include:
– Taking steps to reduce climate change
– Ending poverty
– Promoting good health and well-being
– Improving education
– Developing affordable and clean energy
– Making cities sustainable
– Consuming and producing responsibly
Location :
The Sustainability and Innovation Short-Term Immersion Program at Arizona State University will take place on ASU's largest campus in Tempe, Arizona, part of the Phoenix Metropolitan Area.
Housing :
As a participant in the two-week session, you will be eligible to live in ASU housing during the full session. The housing is included in the program price.
https://housing.asu.edu/housing-communities/residential-colleges/university-towers
Meals:
The meal plan is included in the program price. Students get three meals a day, most likely at the Memorial Union (MU) and have a variety of dining options. Typically, the meals are paid for by swiping their ASU ID card. The MU has many food venues – the usual American sandwiches, pizza, and burgers, as well as a buffet place. There are also options like sushi, an American Mexican place that no doubt the Mexican students will find hilarious, and a convenience store. And of course, Starbucks. Because Americans like to eat, there are many restaurants and convenience stores close to campus that also take the ASU ID meal swipe. The MU also has recreational spaces for students – playing pool, bowling – so that is popular too.
Health clinic:
There is a convenient, newly remodeled, and expanded health clinic on campus and the students will have medical insurance, which is included in the cost. The medical clinic also has a translation service for when communication breaks down if a student doesn't feel well.
Program Dates and Cost :
Two-week Program
July 5-19, 2022
Tuition Fee: 2600$
Application fee: 125$
You will need to apply for an F-1 student visa to travel to the U.S. to participate in the program. Your I-20 will be provided by ASU Global Launch
The program will take place Tuesday to Tuesday dates (5th to 19th July). The first weekend, the students will go to the Grand Canyon and thesecond weekend, there will be a list of suggested activities for the students to do on their own.There are two large shopping centers near the campus, a short bus ride away, and these arevery popular with students. One shopping center is an outlet mall so the deals are irresistible.
Applications:
In order to make an application to ASU Sustainability and Innovation Summer School Program, you are required to fill out the online application form. After your application, Arizona State University will inform you regarding your application. Immersion registration for 2 weeks can be via the link:
https://globallunch.asu.edu/two-week-experience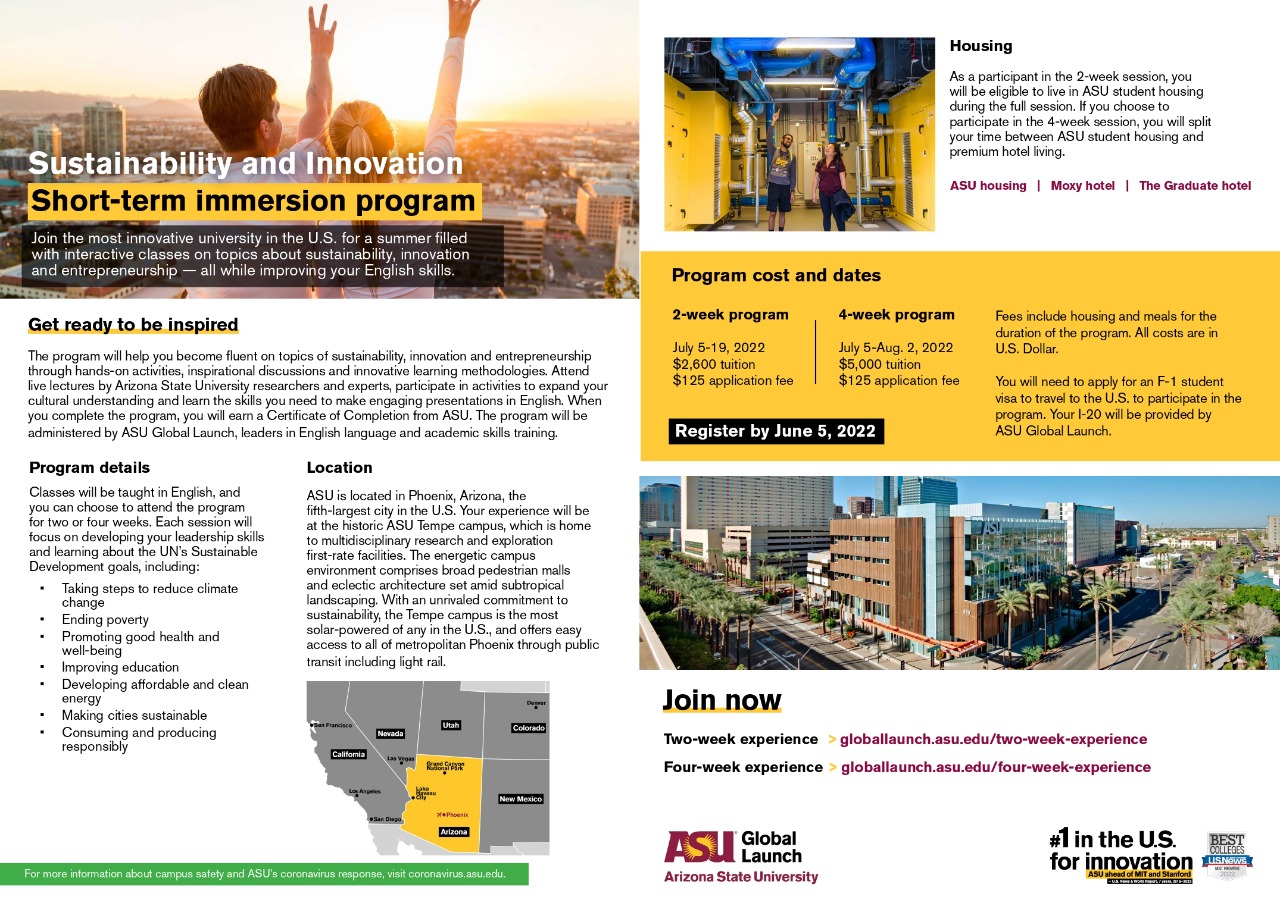 Daftar Segera !
Nathassa : 085716818015 / Ricky : 0813 2000 3807 (Whatsapp)
Untuk informasi lebih lanjut, mendapatkan brosur dan bertanya, silahkan isi link sosialisasi :
bit.ly/CP-Immersion-ASU